Clean Method's Janitorial Cleaning Services Include:
Full building sanitization
Carpet cleaning
Surface and wall cleaning
Top-to-bottom dusting
Sweeping, mopping, and trash removal
Kitchen cleaning
Restroom cleaning
Window cleaning
Upholstery cleaning
Curtains and blinds cleaning
Additional special services:
Building and sidewalk/parking lot pressure washing
Perimeter of building window cleaning services (interior/exterior)
Carpet cleaning and sanitizing
Construction clean-up
Electrostatic/fogging disinfectant cleaning
Tile and grout cleaning
Upholstery and hard surface steam cleaning
Waxable floor scrubbing, stripping, and waxing
A Daily Commitment to Health and Sanitation
Health. Safety. Security. These are what matter most to your employees, your customers, students, and even to regulators and inspectors. 
It's what matters most to us. That's why we use EPA-approved disinfectants to kill harmful bacteria and combat disease spread.
Cleanliness and sanitation are more important than ever. They impact how your business is run. They maintain attendance. They welcome your clients to your space. Our janitorial services protect what matters most. 
Measured Results To Ensure True Cleanliness
How do we make sure you keep clean?
We have an experienced Operations Team that ensures facilities are being cleaned above expectations. We know what is working, and what needs to be improved. This saves building owners time and money, keeps tenants happy, and employees healthy.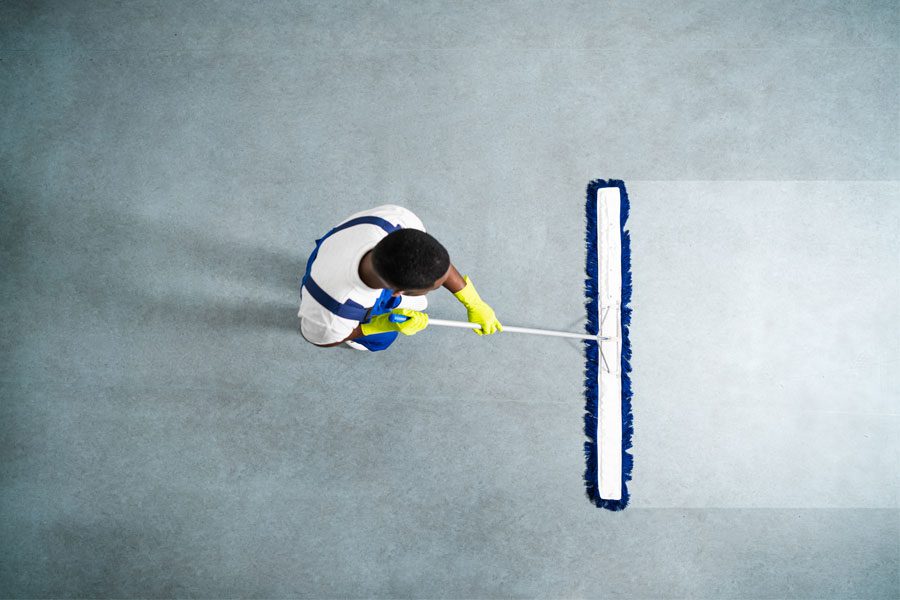 NOTE - DON'T ENTER TEXT HERE, WILL NOT DISPLAY
We have used Clean Method to service the performing arts venue I manage. They are reliable and thorough and carried out intensive deep cleaning services which have clearly improved the quality of the building.
Pete D.
Theater Manager
Janitorial Technicians Who Are An Extension of Your Team
At Clean Method, we pride ourselves on the quality of our team.

Our skilled professionals are highly-trained in the newest techniques. They have the latest equipment and they know how to respond to any situation.
More than that, they are responsive to your needs. Your workspace janitorial needs can change. Every day might be different. But the end result needs to be the same. That's the level of service we promise. We'll work as hard as you do, every day. 
When are Janitorial Services typically performed?
Building and office managers usually prefer janitorial services be performed after business hours to ensure a comprehensive sweep of the facility. No matter your business hours, we work around your schedule. We also offer Day Porter Services if you'd prefer janitorial services on site during the day.
Can you accommodate a requested change in scope after services have started?
It's important that the services performed are the right fit for your environment and we know needs change over time. If services need to change, we work with you to implement them quickly to ensure there is no disruption in service.
Are Cleaning Technicians specially trained for work in medical and other sensitive facilities?
Our technicians are trained in safety procedures that adhere to OSHA standards and in products specifically for use in medical centers and clinics. All technicians pass background checks for work in high-security and sensitive facilities like data centers.
Building A Custom Janitorial Services Solution
No two spaces are alike. That's why we offer a variety of personalized, flexible janitorial services that meet the needs of your unique space.
Create a custom janitorial service for your space.
Choose regularly-scheduled or one-time cleaning appointments.
Trust trained staff that have passed extensive background checks.
Rely on fully trained, reliable, uniformed technicians who treat your facility with care and respect.
Room-by-room, top-to-bottom, we scrub, clean, and sanitize to create a pristine, spotless environment for everyone to use.
When People Demand Cleanliness, Demand The Best.
Everyone who counts on you counts on top-notch janitorial services.